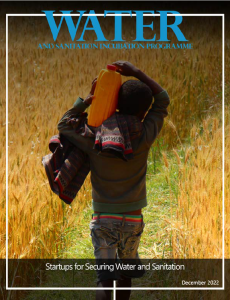 Standard trajectories are not the best option for accelerating water and sanitation startups. Consequently, our 'Water and Sanitation Incubation Programme" (WSIP) used a tailored approach to support participants to overcome challenges that hinder their scaling, such as access to the market and to finance. WSIP was designed and implemented from September 2021 to March 2022 by Aqua for All in partnership with iceaddis.
Based on individual business assessments, WSIP offered training, coaching, mentoring and hybrid bootcamps. Project consultant Abeselom Samson travelled sometimes as far as 1800 km to meet with the participants. "We sat down with them and showed them ways to implement different ideas, depending on the business nature of the ventures."
This customised approach paid off and even exceeded expectations. "We even managed to keep companies open who wanted to shut down, which is a success," remembers Abeselom.
As a result, nine water and sanitation startups successfully completed their incubation journey. Their experiences and general information on WSIP have been compiled in this single-issue magazine 'Startups for Securing Water and Sanitation".
Get in touch with us if you have questions about WSIP or would like to receive additional information: info@aquaforall.org