While safe water plays a pivotal role in the fight against COVID–19, safe sanitation is also essential. Due to the COVID outbreak, the use of sanitation services at home has increased.  The support for Kenya-based organisation NAWASSCOAL is part of Aqua for All's initiative to make funds available to safeguard access to safe water and proper sanitation services, 
Located in the Rift Valley, NAWASSCOAL  offers sanitation services and transforms human waste into fuel briquettes. Briquettes are an environmentally-friendly alternative to charcoal and firewood and do not harm people's health. NAWASSCOAL's main market is in its home-county Nakuru (50%) but they also sell products in Nairobi (40%) and in the rest of the country (10%).  
The company is currently in its second year of operation, whereby under normal conditions the production and sales performance would increase gradually from quarter to quarter. However, the current situation has forced NAWASSCOAL to rethink their operations and realign their priorities.  
The effect of COVID-19 on NAWASSCOAL's operations 
Due to COVID-19 containment measures, NAWASSCOAL's main market segment including poultry, hotels, eateries, schools and institutions, has been forced to close in Nairobi, Nakuru and neighbouring counties. This has resulted in a huge decline in sales and has adversely affected NAWASSCOAL's operations and expansion plans. Furthermore, travel restrictions make it impossible to collect faecal sludge and sell briquettes. On top of that, NAWASSCOAL encountered unforeseen expenses to procure health and safety equipment in compliance with the WHO and Kenya Ministry of Health guidelines. 
These challenges led NAWASSCOAL to consider drastic measures to remain afloat during the pandemic. "We contemplated restructuring the company, which would have forced us to fire personnel. Worst-case scenario, we would have ceased some, if not all of the company's operations. Aqua for All's support came at the right time. We were able to keep our staff and hire sales agents that helped us grow within the household market segment.", explained John Irungu, General Manager – NAWASSCOAL CO LTD.  
Readjusting and resuming business operations  
After receiving funding through our initiative, NAWASSCOAL has adjusted its production and sales activities to expand their reach to more households.  
NAWASSCOAL has invested in health and protective equipment for the staff, which allows them to work safely and comply with the general health guidelines. Employees are also working in shifts to ensure maintaining social distance.  
Aqua for All's financial support has also enabled NAWASSCOAL to conduct awareness campaigns on proper sanitation and to promote environmentally–friendly briquettes made from faecal sludge at the local marketplace.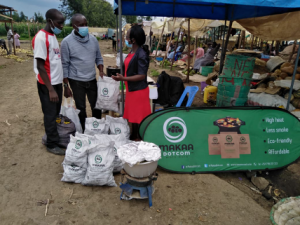 NAWASSCOAL has quickly adapted to continue providing sanitation services to households in Kenya.  Click here to learn how HappyTap, another enterprise supported through our initiative is promoting handwashing in Bangladesh.