In light of the COVID-19 pandemic, Aqua for All recognised the need to support water and sanitation service providers who are actively working to control the spread of the virus and protect vulnerable groups. There is an increased demand for such services and limited access to funding. Furthermore, the lockdown measures imposed by countries also challenge the operations of the service providers. As a result, Aqua for All launched a dedicated facility to safeguard water and sanitation service providers. In doing so, we want to ensure that immediate challenges do not undermine their ability to provide essential services in the long-term.  
HappyTap is one of the enterprises that we support with this initiative. HappyTap is the world's first affordable, portable sink, designed for low-income settings. It is mass-produced and purpose-built for handwashing. In this article, we get an insight into how HappyTap is using timely innovations to promote handwashing in Bangladesh. 
Developments at 
HappyTap
 prior to the crisis
After two years of groundwork and prototyping, building on the previous two years of formative research and testing, HappyTap put together their understanding of consumers' behaviour and practices to launch the first of its kind plastic portable basin. The manufacturing of the device began in February 2020 and its retail operation started in the beginning of March 2020 in selected areas of Gazipur district (Dhaka region, Bangladesh).  
The effects of 
COVID
-19 on 
HappyTap
The retail distribution of HappyTap coincided with the outbreak of the virus in Bangladesh. The first case of COVID-19 in Bangladesh was identified on 8 March and the government declared a nationwide lockdown from 26 March.  The massive pandemic-related disruptions to livelihoods and the economy have reduced the ability of household customers to pay for HappyTaps. Consequently, HappyTap had to shift its focus to e-commerce immediately. HappyTap initiated digital campaigns to promote product and handwashing awareness, and to drive sales conversions. Although HappyTap started receiving online orders, they could not deliver products outside of Dhaka as the courier/delivery partners limited their operations. 
Reacting to 
COVID
-19 and implementing innovative solutions
HappyTap has been ramping up the production and distribution capacity in Bangladesh. With COVID-19 response funding from Aqua for All, HappyTap is building out their institutional sales verticals. They will be rolling out programming to reach healthcare facilities and schools with handwashing hardware, plus accompanying software programming. All this in order to ensure institutional ownership of handwashing stations, plus regular operations and maintenance. 
HappyTap has reached out to the Bangladesh government, the Mayor of Dhaka and a few other cities, to immediately install (and maintain) handwashing stations with soap in critical public places. They are also reaching out to different NGOs and donor organisations with the physical solution to help fight this pandemic, including in urban and peri-urban slums, refugee camps, and elsewhere.  
Currently, HappyTaps have been installed in a variety of places ranging from a mosque to the local radio station.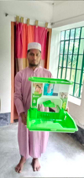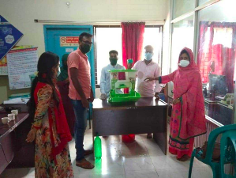 The digital awareness campaign launched by HappyTap with the aim of communicating the importance of handwashing to fight COVID-19 was very successful. The videos posted as a part of the campaign received over 1 million views each within the first week of posting.  
Links to the videos: 
Envisioning the future of 
HappyTap
Now that there is a heightened awareness and motivation to invest in hygiene products, HappyTap is working on distribution to all of the ten metropolitan areas of Bangladesh as soon as lockdowns are eased. Customer uptake will be helped by placements in schools and healthcare facilities in this by Aqua for All supported programme. Globally, HappyTap is reaching out to donors, investors, and distribution partners in order to scale up their operations to reach millions of people.