Today, 3.6 billon people have no access to safe toilets. Bara Wahbeh, a co-founder of a Jordan-based sanitation enterprise AKYAS, knows a way to address this crisis. Together with Sophia Tan and Mandy Mui, he invented a toilet that does not require water to displace waste and does not need labour-intensive processing. AKYAS sanitation solution won the Sarphati Sanitation Challenge this year. In the run-up to World Toilet Day, we talked with Bara Wahbeh about challenges facing sanitation innovators on their way to scale.
–  What is so unique about AKYAS sanitation solution and what inspired you to develop it?
– The idea came to me and dr. Sophia Tan, with whom I worked earlier in Turkey, in 2017, during a hackathon in Jordan dedicated to a cholera outbreak in Yemen. We realised that it was an opportunity to work on sanitation solutions together. As to the AKYAS sanitation solution, it is 3 in 1: a toilet pan, a bag and sanitising powder. The pan can be used with any dry toilet and is specifically designed for displaced/vulnerable populations. The powder kills pathogens in 48 hours and is non-toxic as well as quite affordable. Finally, the bag that collects human waste is made of compostable materials so you can dispose of it after use and easily replace it with a new one.
–  Tell us a little bit about your team. How did you meet the people you work with and how do they contribute to developing AKYAS sanitation solution? 
– I first met Sophia Tan in Turkey. We were working with displaced populations in the Aegean region. I was a logistic coordinator, she was a doctor. We provided medical services to 5000+ people distributed around 20 camps. We worked together for a few months and later met for the second time in Jordan: she was having an assignment with a UN agency there when I came home for a short visit before I headed to a new mission in Yemen but the mission was canceled. As we started to develop our solution, we met with Mandy Mui, she is an architectural designer from Hong Kong. She was in Jordan at that time, working with a local NGO. We asked Mandy to help us with the digital prototyping of a toilet and that was how she got involved in the business. The three of us became the core of AKYAS.
– What are your goals for the next year and how will participation in the Sarphati Sanitation Challenge help you to reach them?
– Next year we are planning to scale our operations to Bangladesh and India. Both are significantly affected by climate change and the water crisis. In India, we were very lucky to get in touch with Sanitation First. Our system can potentially reduce the operational costs of container-based sanitation service providers and other pit latrine settings. Upon launching a successful pilot with our partners, we will set up a mass-scale manufacturing capacity and scale our operation.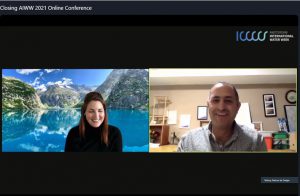 The Sarphati Sanitation Challenge has demonstrated that there is a strong group of WASH innovators targeting different communities. We are all applying different business strategies to achieve sanitation for all. We hope that the Sarphati Sanitation community will continue to attract interests and investments into the sanitation field to support innovation and implementation.
–  Speaking about your pilots, how they are going?
–  We are having our current pilot in Za'atari camp. We did learn that everything that can go wrong went wrong. Although during the planning process we wanted to be inclusive of pregnant women and people with disabilities and, therefore, installed a seated pan, it turned out that people mostly preferred squatting pans. And an urine-diverting pan does not work when a person squats on a seated pan! In addition, working with WASH officers in the camp gave us a clearer idea that they prefer a WASH solution from A-Z. And they want transparency, ease of management and reporting. That inspired us to develop software application AKYAS+ Track & Trace.
–  What are the main obstacles to deploying solutions like yours on a larger scale? Do you see a way to overcome them? 
– There are many obstacles. Sanitation is defined as a utility business, and it should be run like one. In AKYAS' case,  we are offering a technology that shortens both the operation process and the treatment time. The question is how we are going to tap into the know-how of local actors in the supply chain, provide capacity building, and secure contracts to scale up. Those are, however, small obstacles. Most importantly, you need to find the right strategic plan, including partners and funding, as well as reach out to the right populations' segments. In other words, a strong partnership is needed to support us along the way. And finally, you need to demonstrate that your solution is affordable and adds value. Because people take sanitation for granted. Everyone wants it, but no one wants to pay for it.
– How does AKYAS address behaviour change in the rollout of AKYAS toilets? 
– Talking about sanitation with people is considered a kind of privacy breach. So it is not easy to extract honest feedback from users as they sometimes do not know how to answer our questions. For example, we designed a toilet with maximum ventilation so it does not have a problem with odors. But people have biases, and they are wary. So every time we go to a camp, we try to talk to as many people as we can, and when we explain the technology and the value of it, they become interested. When we visit them next time, they are more open to the talk.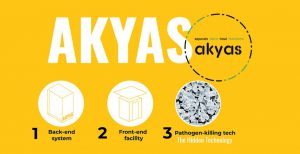 – World Toilet Day was established to remind the global community about the sanitation crisis. However, the discussion evoked by it may not last for long. Do you think that toilets are still a taboo topic? How do we break this stereotype and maintain the talk about sanitation throughout the year?
– I think, it is wrong to talk about toilets only in terms of safe access to sanitation. There is an opportunity to link the sanitation crisis to other big challenges – climate change, the transfer to circular economy, health – and get the benefit of the momentum. It is estimated that greenhouse gases emitted by the sanitation sector constitute around 3% of global GHGs emissions. Emissions from the manufacturing of synthetic fertilisers are around 6%. If we can propose a plan of processing human waste into organic fertilisers, we will kill two birds with one stone. Why not create this industry and have people advocating for it? Take Jordan as a case study, for example. Selling treated faecal sludge as organic fertiliser or simply soil amendment is not allowed by current local legislation. Which is insane! The government supports and subsidises synthetic fertilisers, but not the organic ones.
We all must embrace a change in mindset and see the value of a circular approach as a new norm. AKYAS is researching the potential of processing human waste into several by-products such as soil amendment. We have already calculated the value of the end product. We know it works. But it is the easiest option. We can also transform faecal sludge into an energy source or even biomass that can be used as animal feed. Moreover, by using a waterless toilet, you can make a huge impact on climate adaptation. The so-called flush toilet consumes between 6000-7000 litres of water per person per year, let alone the energy and infrastructure needed to fulfil the treatment requirement. This potentially can be more than the water we drink and use for cooking. I believe that potential water saving and greenhouse gases emissions reduction must be monetised. Otherwise, business will continue as usual.