Technical assistance is a vital component of our Impact-Linked Fund for Water, Sanitation and Hygiene (ILF for WASH), co-designed and implemented by Aqua for All and Roots of Impact. The different tracks of the technical assistance component are supported and/or provided by the Social Finance Academy, an initiative by Roots of Impact.
Many WASH enterprises struggle to demonstrate results and impact in such a way that it can be linked with financial incentives (such as Impact-Linked Finance) and other financing opportunities.
Impact-Linked Finance refers to linking financial rewards for enterprises (and other market-based organisations) to their achievement of positive social and/or environmental outcomes. Combined with technical assistance, it ensures the right type of support (technical and financial) is provided to enterprises at different stages of their development.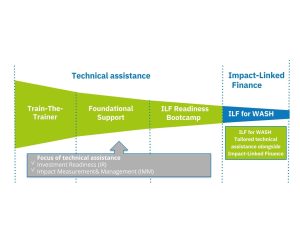 To be able to receive Impact-Linked Finance, enterprises are assessed on their investment readiness – how likely it is that an enterprise can raise (repayable) investment and within which timeframe. Besides, it is assessed whether enterprises have established a proper impact measurement and management system to collect and analyse the right type of data for various purposes, e.g. reporting impact, optimising impact and business goals, as well as communicating with impact investors using a common impact language.
Within ILF for WASH, technical assistance targets impact-driven enterprises, as well as service providers to build their capacity towards creating a thriving impact ecosystem.  We offer the following technical assistance tracks:
Train-the-Trainer Programme for service providers
Foundational Support for water & sanitation entrepreneurs
ILF Readiness Bootcamp for water & sanitation entrepreneurs
Technical assistance alongside Impact-Linked Finance