Mr Gashaye Chekol Yihunie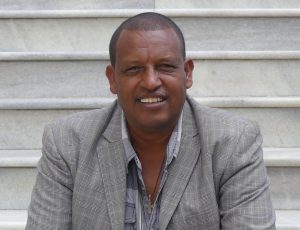 Mr Gashaye Chekol Yihunie is the Country Coordinator for Aqua for All Ethiopia. 
Gashaye has been active in the field of WASH for over 24 years and in the irrigation sector for 10 years. Prior to Aqua for All, Gashaye was the Director of Programmes at WaterAid where he managed 4 programs including Urban WASH, Rural WASH, Design and Quality Assurance and Policy Influencing for 3 years. Gashaye also served as the WASH advisor of SNV Ethiopia program for 5 years. Before working at SNV, he was the Head of the Water Resources Development Department of Ethiopian Orthodox Church EOC DICAC, a local church-based NGO. Here, Gashaye held different positions ranging from programme officer to department head for 10 years. He was responsible for leading WASH projects funded by different donors like USAID, WaterAid, Christian Aid, different Embassies and Inter-Church Aid. Before this, Gashaye also worked for the Ethiopian Government Irrigation Development Department for 10 years where he was responsible for a variety of tasks including the irrigation projects study, design and implementation of diversion weirs and micro dams, monitoring and evaluation of WASH projects and leading over 26 engineers of different capacities. 
With his many years of experience, Gashaye is an asset to the development of Aqua for All in Ethiopia. For the last 4 years, he has been serving as water quality advisor for Aqua for All Ethiopia on utility-led safe water at point-of-use programme which has now grown to a country-level programme.