Aqua for All, along with private and public investors, have launched the Water Access Acceleration Fund, the first private equity fund for safe drinking water.
The Water Access Acceleration Fund (W2AF) is an impact-first blended fund that invests in safe drinking water enterprises, primarily in Africa and Asia. Through equity investments, the fund aims to give access to safe drinking water to 30 million people.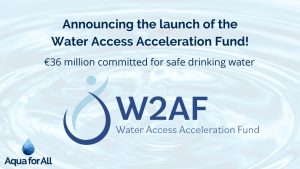 Together private and public investors, Aqua for All has committed €36 million at the fund's first closing. W2AF's investors include Danone, BNP Paribas, U.S. International Development Finance Corporation (DFC), the Danish development finance institution IFU, Norfund, and the U.S. Agency for International Development.
Blended finance is instrumental to mobilise private investments in water. As an active investor in W2AF, Aqua for All has provided catalytic first-loss capital in the fund structure as well as technical assistance funding for the W2AF's investees. Besides, Aqua for All brings forth its two decades of water sector expertise, knowledge, and networks to the fund.
"Aqua for All, as a catalytic capital provider, has participated in the fund with the goal of scaling access to affordable and safe drinking water to underserved populations through investments in promising water entrepreneurs. We believe that blended finance, impact-focused funds like W2AF have the potential to mobilise more funding for the sector to reach SDG 6 while demonstrating the financial viability of the local businesses to serve their communities. We congratulate the fund on its first-close and look forward to seeing the first investments of the fund and their impact,'' said Shabana Abbas, Aqua for All's Senior Manager Innovative Finance.
For more information on W2AF, you can read the press release, which is available in English, French or Dutch. You can also contact us per email: info@aquaforall.org 
For media inquiries, please contact Blanca Méndez, Communications Manager, at b.mendez@aquaforall.org.