173 villages in rural India had continuous safe drinking water supply and received sanitisers from Spring Health India. Over 62,000 people in Ghana received training on hand hygiene and gained access to safe handwashing with soap thanks to the 520 handwashing stations that Project Maji installed in 62 rural communities. In Bangladesh, SWEEP provided onsite sanitation services to more than 50,090 people monthly, while reporting zero Covid-19-related incidents and 40% more jobs created. Timely grant support for struggling water and sanitation enterprises was critical to overcome Covid-19 challenges and create positive impact.
Just-in-time response thanks to our partners
The alarming signs resulting from our April survey demanded immediate action to safeguard essential services in urban and rural areas. In June 2020, we set up a €826,548 emergency facility to provide grants to struggling water and sanitation service providers worldwide. This facility was supported by like-minded organisations active in the field of water and sanitation and impact investors. They identified water and sanitation enterprises in need among their good performing partners. This endorsement enabled us expedite the grant process and quickly response to these service providers' capital needs.
Aqua for All also had to adjust internally to implement its emergency response. We received requests with out-of-the-box solutions. Some deviated from the kind of activities we would usually finance, but were the right solutions in this exceptional situation. Supporting these initiatives became a unique learning opportunity for us that will benefit our future work.
'We applaud Aqua for All for its enthusiasm and broad-mindedness. We knew the scope of our proposal was slightly different to the call for support. We thank the Aqua for All team for reviewing our ideas with an open mind. More importantly, we highly appreciate its understanding and flexibility to make changes to our agreement midway to the campaign, as it is turned out to be more successful than expected and we needed more resources,' said Wieke de Vries, Project Maji's Director of Development & Partnerships.
Small grants that make the difference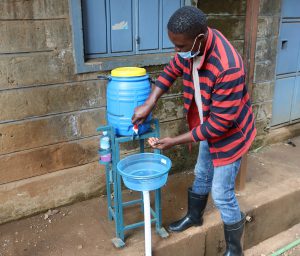 By May 2021, the facility had supported 22 service providers in Bangladesh, Ghana, Haiti, India, Kenya, Peru and Uganda with grants averaging €20,000. These enterprises quickly managed to make adjustments and find creative solutions to safeguard and expand their services in spite of restrictions and loss of income.
From unconventional marketing campaigns to training on hygiene practices; and from new products to adjusted service delivery, these 22 enterprises proved timely support can make the difference. The small grants ensured continued access to water and sanitation services for more than 767,740 beneficiaries.
But our work is far from finished: we are currently assessing requests from services providers from Africa and Asia, and expect more to come. Aqua for All is therefore open to partner with donors and foundations willing allocate funds for water and sanitation enterprises in areas affected by the Covid-19 pandemic. Are you interested? Contact us: info@aquaforall.org