We have launched the Maji Nyumbani Programme in partnership with the Kenya Union of Savings and Credit Cooperatives Ltd (KUSCCO). KUSCCO comprises a network of 3500 Savings and Credit Cooperatives (SACCOs) in Kenya. Around 200 SACCOs are regulated deposit-taking institutions.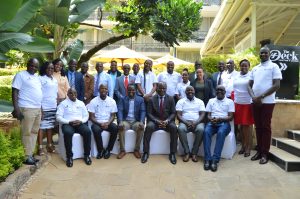 Ten deposit-taking SACCOs will participate in the 15-month pilot phase of the programme. The SACCOs will receive technical assistance to develop affordable credit and savings products and services for low-income households and community-based micro, small and medium enterprises (MSMEs).
Households will be able to make home investments in water tanks, water harvesting equipment, home water purifiers, solar-powered water booster-pumps, piped connections and toilets, among others. MSMEs will use the capital for micro projects, such as water connections, and for purchasing water tanks, pipes, solar panels, pumps, purifiers, etc.
It is expected that the Maji Nyumbani Programme will benefit 12,500 people in Mombasa, Eldoret, Siaya, Baringo, Embu, Kakamega, Nyeri, Meru, Kilifi and Nakuru Counties.
For more information, please read the press release or contact us: info@aquaforall.org