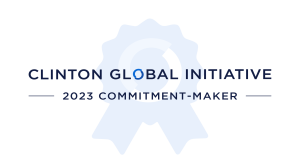 During the Clinton Global Initiative 2023 Meeting, our Commitment to Action "Catalyzing a sustainable water and sanitation economy" was announced.
We commit to scaling our Making Water Count (MWC) programme to new geographies in Africa, Asia, and Latin America. MWC aims to increase sustainable access to water and sanitation by addressing finance and service gaps in the sector. Our innovative approach to scaling water and sanitation services involves working on both market development and increasing financial access.
Sector transformation requires supporting water and sanitation small and medium enterprises (SMEs) to innovate, scale, and become investment ready. MWC will support these SMEs with financial support (grants, results-based incentives), business acceleration opportunities and technical assistance. At the same time, the programme will catalyse impactful investments in water and sanitation through blended finance mechanisms and the de-risking of investments.
By mainstreaming climate action in our organisation and the MWC programme, we will make sure our initiatives and investments will achieve sustainable impact and will contribute to building resilience of the communities and water and sanitation SMEs we support.
Read how our Commitment to Action will contribute to "Catalyzing a sustainable water and sanitation economy".
About the Clinton Global Initiative
Founded by President Bill Clinton in 2005, the Clinton Global Initiative is a community of doers representing a broad cross section of society and dedicated to the idea that we can accomplish more together than we can apart.  Through CGI's unique model, more than 10,000 organizations have launched more than 4,000 Commitments to Action — new, specific, and measurable projects and programs – that are making a difference in the lives of more than 500 million people in 180 countries.