World Water Week 2023 will take place from 20 to 24 August in Stockholm in a hybrid form.
This year's theme, "Seeds of change: Innovative solutions for a water-wise world", gives a podium to innovators and diverse stakeholders from around the world. They tackle global water challenges from different angles, such as poverty, climate change, biodiversity loss, and access to water and sanitation services.
Register for the online and on-site conference here. Online participation is free of charge.
Meet our team in Stockholm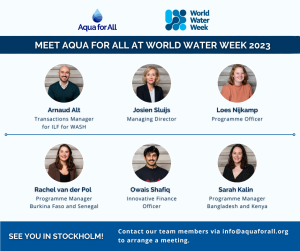 Send us a message if you want to arrange a meeting with one of our colleagues in Stockholm.
Don't miss our sessions!
Learn more about climate-resilient WASH and how small and medium enterprises contribute to change in the sector through innovative and scalable solutions.
Monday 21 August, 10:00-11:00 CEST (online)
Climate-resilient WASH: aligning funder and practitioner perspectives
Speakers: The Nature Conservancy and Safe Water Network
Convenors: Shockwave, Aqua for All and Alliance for Global Water Adaptation (AGWA)
Session summary: Reliable, safe water supplies and sanitation define SDG 6, especially for critical public health outcomes. Increasing water services resilience to climate change is pushing funders and operators to reconsider delivery, management, and progress indicators. This session will showcase efforts by funders, knowledge centres, and practitioners to accelerate and mainstream resilient WASH.
 Thursday 24 August, 14:00-15:30 CEST (on-site)
The voice of SMEs: better enabling these seeds of change – More
Speakers:  CRS Azure Source Capital, ISEA, , ForthInvestment, Naandi Community Water Services and Aqua Clara Kenya
Convenors: Aqua for All, The Stone Family Foundation, Toilet Board Coalition and cewas
Session summary: SMEs are one of the seeds of change in closing the service gap in water and sanitation. They bring in innovative and scalable solutions, reaching millions of people. This session will convene SMEs, financiers and technical support partners to deep dive into how this group can be supported successfully.
Save the dates! More information on these and other sessions can be found in the online programme: https://bit.ly/47mDFn4
Learn from and meet funders and safe water enterprises (SWEs) 
In partnership with Danone Communities, we organise sharing sessions and networking activities at our exhibition booth. They will showcase safe drinking water solutions:
Monday 21 August, 12:00-13:00 (CEST): Key success factors (by Danone Communities)
Tuesday 22 August, 08:00-09:00 (CEST): Household filters
Tuesday 22 August, 12:00-13:00 (CEST): Home/office delivery
Wednesday 23 August, 12:00-13:00 (CEST): Water kiosks
Wednesday 23 August, 17:30-19:00 (CEST): Networking cocktail with SWEs, funders and other stakeholders
Thursday 24 August, 12:00-13:00 (CEST): Piped water connections
Click here to get the list of SWEs involved in these sessions.
Registration is not required to participate in our booth activities.
We look forward to welcoming you in booth 4.14 located at level 4.