Project Maji is a non-profit social enterprise using smart technologies to bring sustainable access to safe drinking water to rural communities. Aqua for All partnered with Project Maji for the first time in 2020.
Since then, Project Maji has been scaling towards reaching its target: to serve 1 million people in rural communities by 2025. During the All Systems Connect Symposium at the beginning of May, we talked to founder and CEO Sunil Lalvani, about the past, present, and future of Project Maji.
Can you tell us more about your background and what made you start Project Maji?
My father started Binatone in 1958 in the UK and it was my destiny to join the family business. After graduating with a Major in Business I joined the family company. In 2008 I took over Binatone which was operational in the Middle East, Africa and Eastern Europe.
In 2014, when I was in Ghana, my driver stopped in what seemed like the middle of nowhere, because two kids were collecting water from a puddle in the road. They told me they were off for their usual 30–40-minute walk to fetch water as the hand pump in their village broke down years ago. But this "lucky" puddle saved them. That was my entry into the water space. As I went to their village and talked to the community, I felt we could do something with Binatone resources and the engineering team.
"That day in Ghana changed my life and took me on a different journey".
Project Maji began as a CSR project for sustainable access to clean water in rural communities. I wanted to build something better than a hand pump that would last over the long term. I noticed that people were used to paying for water, which was new to me. I liked the idea of charging a small fee because people will value water and won't waste it.
All the water kiosks run on solar-powered pumps, which are more durable and require less effort than hand pumps. We installed an automated cashless payment system (water ATM) at each site, allowing communities 24-hour access, at the touch of a tap.
We use the revenues for maintenance. Without charging a certain amount, repairs would have to be paid from our CSR budget, ultimately slowing down support and sustainability.
Why did you decide to work with rural communities despite its many challenges?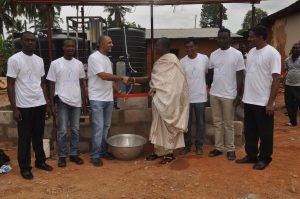 In the village where the two kids live, the hand pump broke down years ago. I learned that this was not an exception but a widespread problem affecting many rural communities. I was thrilled to work on the first solar kiosk and open the first tap. We learnt so much through this first experience, and I committed to help more people affected by the water crisis.
Later that same year, we opened two more sites and helped 2,000 more people, which was great. However, with over 800 million people deprived from clean water, we needed to do more and work faster.
In 2015, I realised Project Maji needed to grow exponentially to help more rural communities. I left my executive role at Binatone, and Project Maji became an independent entity with a clear purpose. We currently have more than 185 sustainable access points, and we passed the milestone of 250,000 people impacted last January.
What is Project Maji's unique selling point?
Project Maji is a social enterprise. We work as a business with clear KPIs and operational policies. However, instead of being driven by profit, we are driven by social impact and the transformational power of access to water for rural communities. 'Maji' means water in Swahili. We called it Project Maji because it began as a CSR project. During that phase, we learnt a lot about building the kiosks, the payment systems, and the importance of active monitoring and maintenance.
After becoming independent, we kept the word "Project" in our name because of our target of reaching a million people by 2025. And we will continue to set new targets in the future.
It is crucial for us to have a clear mission and build transparent data sets showing our contribution and impact. We manage accessible social impact data. Everything is registered in the mWater system, allowing us to be transparent and monitor internal KPIs, the state of the kiosks, and their operators. We use the collected data to improve our performance.
How do you see Project Maji changing in the coming five years?
We have learnt a lot over the years. Our first water kiosk was far too complex and large. Since then, we have constantly developed and improved our solution to lower costs, to improve efficiency and to increase reliability in the field. We know we will never solve the water crisis alone. This is why we work with local organisations and expand via trusted partners.
We currently work in Ghana and Kenya. We recently expanded to Uganda because we have a good partner there. Working with local partners is part of who we are and how we operate. It is not our goal to expand to other countries and start from scratch when there are experienced and competent people who know the field better than us. We work with local operators that mainly need our technological assistance, like the Ugandan Water Project.
Partnerships have power, especially when dealing with issues like the water crisis. You need to work with the communities and people with experience in that country, city or village.
What would you like impact investors to know about Project Maji?
My definition of impact investing is that impact goes first, and financial gain comes second. Investors expect a return, but when you support people with an income of only one or two dollars a day, you cannot expect Silicon Valley financial returns on investment. Yet, the value created by that investment has an incredible impact on the beneficiaries in rural communities. In fact, for every dollar invested in WASH, the community gets up to a seven-fold return.
A perspective I would like to give investors is to look at impact investing as an investment in the development of people and the planet. When you donate to charities, you give the money away. But if you decide to invest in a social enterprise, you can get better financial and social returns. And the enterprise needs to be transparent regarding the impact created by your investment: where, how, and how many people were impacted. Organisations can create greater positive change if they consider the benefits of impact investing and include it in their portfolio approach. It is easy to sign a cheque and receive a photo of a facility that was built, but investing in people and causes that need attention, like the water crisis, will generate more social and environmental impact in the end.
What has been your most memorable moment since the foundation of Project Maji?
There are two significant moments: First, my experience in Ghana. I remember asking myself: how come could these kids be fetching water like this? And why could they consider finding a puddle of brown water a lucky opportunity? To date, people still drink water from unhealthy sources, and that is always a reminder to me that we must continue on this journey.
Secondly, field visits are always rewarding. I remember when we switched on the tap on World Water Day 2015 (22 March) for the first time. Even though the site was not finished, it was a euphoric moment for me to look at the same kids, their families, and the community being able to drink clean water with the simple turn of a tap. Seeing all those people smiling was a unique feeling… and it still keeps me motivated to do what we do.
If you want to know more about the work of Project Maji, please refer to their website.