Kenya, the Netherlands, Dubai, 14 April 2021
Project Maji received funding from Aqua for All to introduce a new model to build a business case for safe water economics in rural, underserved communities in Sub-Saharan Africa. The three-year programme in Kenya aims to accelerate service delivery to 34 water-poor communities. At the same time, an ambitious Research and Development (R&D) programme aims to half the costs of a solar-powered water kiosk. This game-changing, blended-finance formula can quadruple the impact of future rural water interventions.
Project Maji's new approach reduces donor dependency by 75% and aims to recover 50% of the capital investment of their kiosk model.
Blended finance construction
Aqua for All provides a grant to invest in solar-powered water kiosk production and installation. This grant is fully matched by three Project Maji's donors. Aqua for All also funds the R&D programme to reengineer the kiosk hardware to half the CapEx through applied innovations. In addition, a loan is provided by WASH impact investor VOx Impuls to subsidise the kiosk installation until the expected price reduction is realised.
Roadmap to success

Kenya faces many challenges related to safe drinking water. 25% of Kenyans in rural areas rely on surface water, one in four water points are not functional and 2/3 of rural water is not paid for. Although safe water enterprises are challenging the 'charity model' of giving water for free, only 25% of operations and maintenance (O&M) is covered by water revenue.
This project aims to tackle these challenges by:
Maintaining consistent sales levels of 2500 litres of safe water per day by offering high-quality reliable services in the heart of each community (population <1000).
Halving the price of a kiosk and thereby drastically improving the financial proposition of the rural water business case.
The outcome is a blended-finance service delivery model whereby 50% of a kiosk installation costs will be paid via non-repayable grant funding and 50% in the form of a loan that will be re-paid through water revenue.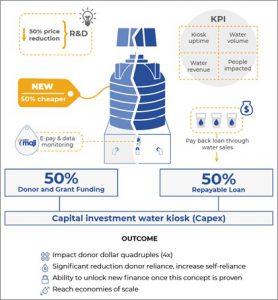 The projected outcomes will quadruple the impact of donor money and considerably reduce donor reliance. This will support scaling up and developing growth economies, as well as unlock new opportunities for finance injection in the sector.
Sunil Lalvani, Founder and CEO of Project Maji: "We are very excited to embark on this journey, where we expect to create a novel social water enterprise model that moves the sector forward. Our vision and ethos are fully aligned with Aqua for All's. We believe the project will hugely benefit from Aqua for All's in-depth insight into the major challenges plaguing the sector, and Project Maji's experience in implementation of rural water projects and our R&D strength. Both aspects are invaluable to drive sustainable sector change, taking essential technical and financial steps towards efficiency."
Arco van der Toorn, Senior Programme Manager Aqua for All : "The development of rural water projects in sparsely populated arid areas of Kenya is a challenge. Project Maji offers a new kiosk model based on sound experiences of what will work, combined with sustainable concepts and smart innovations. Attracting financing – partly repayable – is the only way for Kenya to meet SDG 6.1 (safe and affordable drinking water for all)."
For more information, please visit: www.projectmaji.org