Ever since the start of their operations in 2010, Aqua for All has  been one of Safisana's most loyal supporters. It is with great pleasure that we announce that Aqua for All and Safisana will continue their partnership the coming two years.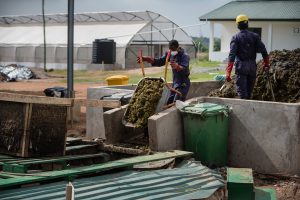 Safisana is a  social enterprise developing a circular model for waste treatment. On their recycling plant in Ashaiman, Ghana, they turn organic waste and faecal sludge into high value products: renewable energy, organic fertiliser and irrigation water.
Aqua for All's contribution does not stand alone: thanks to a blended finance model, involving different grantors and investors, Safisana can refine their business model and start scaling up in and outside Ghana.
Holistic Approach
Safisana's recycling plant in Ashaiman, Ghana improves the day-to-day living conditions of over 50.000 people in the community. A new grant enables Safisana to reach its
ambitious goals, growing its impact by installing two to three more plants in and outside Ghana.
By building recycling plants which treat faecal and organic waste as a resource to produce bio-energy, highly-nutritive fertiliser, and clean irrigation water, Safisana hits multiple birds with one stone. They are able to offer a cost-effective solution which is affordable for low- and middle-income countries, because sales of these end products generates revenue, covering all operational costs of the recycling plant.
As Safisana is managed and embedded locally, the plant also creates employment for local people and Small and Medium Enterprises (SMEs). And last but not least, the end products enable farmers to improve the quality and quantity of their food production, leading to increased food security. All together this holistic approach allows for a sustainable solution with a long-lasting, social, economic, and environmental impact.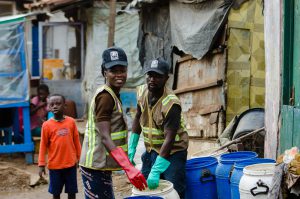 Scale-up
Previously, Safisana focused on developing stand-alone waste recycling facilities. Nowadays they optimise their model for governments and utilities. The facilities can be used in co-location with existing utilities, or with inefficient waste treatment facilities. In this way, operations and quality can be optimised.
This model will first be tested in Mali, where Safisana is currently carrying out a feasibility study in collaboration with World Waternet, the Dutch Fund for Climate and Development (DFCD), and the national utility service of Mali, Angesem.
Another scaling trajectory is linking the recycling model to the food processing industry.
This is a cost-effective way of solving the waste problems of the industry, contributing to Environmental, Social, and Governance goals, as well as footprint reduction. Safisana is now working on pre-feasibilities to assess the potential with food processing industries in Ethiopia and Uganda. Aqua for All is excited to follow these promising leads closely, and is looking forward to seeing its first results.
Want to stay up to date? Tune in on Safisana's website or join Safisana on their mission via: