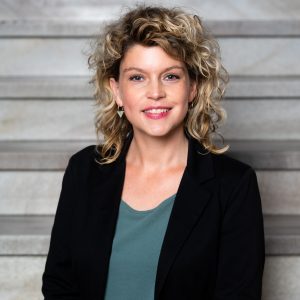 Ms Annemarie Mastenbroek is Technical Assistance Manager for the Impact-Linked Fund for Water, Sanitation and Hygiene (ILF for WASH).
In this role, Annemarie is responsible for designing and managing all technical assistance activities that are part of ILF for WASH, a follow-up of Aqua for All's 'Social Impact Incentives (SIINC) Programme'.
Annemarie has over 7 years' experience  with innovative and inclusive financing approaches. Prior to joining Aqua for All, Annemarie was involved in establishing an innovative (water) project development facility (KIFFWA, active in Kenya). Later, as programme manager for this initiative, she was responsible for grant management, proposal writing, reporting, stakeholder management, contract management with third parties, and Monitoring & Evaluation (M&E).
Annemarie has a master's degree (M.Sc.) in International Relations & Multi-Level Governance, with a focus on International Political Economy. For her research master, she  wrote her thesis on Islamic Finance. Annemarie also has a bachelor's degree in Sustainable Tourism Development and a pre-master programme degree in Human Geography.
Having built up experience at two network/sector organisations (Netherlands Water Partnership (NWP) and NpM, Platform for Inclusive Finance), Annemarie is experienced in working with multiple stakeholders and managing different interests. She loves to contribute to society  by generating positive impact , enable things to happen, and she is keen on ensuring quality during  the process.