PME PERFORMANTES WASH est un programme développé par ForthInvestment et cofinancé par Aqua for All. Il vise à accompagner dix PME du secteur WASH (Eau, Assainissement, Gestion Intégrée des Ressources en Eau) durant une période de dix mois en vue de les pérenniser. Il est déployé en partenariat avec IRC WASH, Sinergi Burkina, La Maison de la PME, Société Générale Burkina Faso et d'autres acteurs du financement et de l'accompagnement du secteur public et privé.
Au terme d'une phase de sélection ayant clos en mai 2020, nous avons sélectionné dix PME qui bénéficieront d'un appui technique et financier. L'entreprise ZIBDON ECO-SERVICES est l'une des bénéficiaires.
 ZIBDON ECO-SERVICES est une Société à Responsabilité Limitée (SARL) de droit burkinabé créée en novembre 2019. Elle est spécialisée dans l'Écoconstruction. Elle s'est donnée pour principale mission la promotion d'une approche plus écologique dans le secteur de la construction des toilettes à travers l'introduction de technologies innovantes et révolutionnaires telles que le BIOFIL et le MICROFLASH.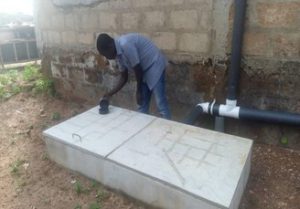 La technologie « BIOFIL » : Il s'agit d'un bio digesteur inodore, non ''vidangeable'', permettant un nettoyage des eaux usées par des processus naturels avant qu'elles ne pénètrent la nappe phréatique et qui peut durer jusqu'à trente ans. Il s'installe en lieu et place d'une fosse septique traditionnelle remplie d'eau et permet ainsi de réaliser des économies notamment, en termes de ressources en eau, tout en préservant l'environnement du déversement de matières fécales non-traitées.
 La technologie « MICROFLASH » : quant à elle consiste à poser un pot appelé ''pot direct'' sur une fosse septique traditionnelle. Elle permet d'utiliser juste un quart de litre d'eau pour chasser la matière fécale. Très économique en eau et exempt d'odeur.  Sur la base de ces deux technologies, l'entreprise propose des produits tels que L'ECO-PUBLITOIL : un modèle de toilettes conciliant plusieurs technologies respectueuses de l'environnement tout en offrant une visibilité aux entreprises, faisant ainsi d'elles des toilettes éco publicitaires et accessibles à tous.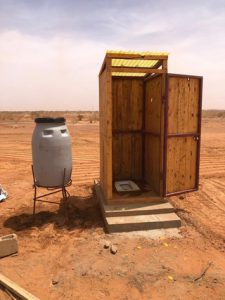 La structure des cabines assure un intérieur bien éclairé par la lumière du jour et elles sont alimentées par un dispositif d'énergie photovoltaïque. Le système empêche automatiquement les organismes de propager des maladies car il n'y a pas d'accumulation de boue, ni d'odeur. Un digesteur écologique accueillant 25 usagers ne nécessite qu'environ 2m² d'espace terrestre pour sa construction et peut être extensible selon les besoins. La défécation en plein air est ainsi évitée et il permet également de produire du compost à des fins agricoles. En raison du faible coût d'installation, du peu d'espace utilisé et de son installation facile même dans des environnements surpeuplés, il peut aussi bien être installé dans des écoles, des programmes de logements commerciaux, des bureaux, des camps, et des espaces de loisirs.
ZIBDON ECO SERVICES intervient également dans la gestion des déchets, l'assainissement, l'énergie et la formation. Elle a son siège installé à Ouaga 2000 – Zone A et dispose d'un centre de traitement de déchets et de montage situé à Koubri en périphérie du grand Ouaga. L'entreprise capitalise actuellement vingt mois d'exercice avec plus de deux cent toilettes à base de bio digesteurs réalisées au Burkina pour le compte de particuliers, d'entreprises, de collectivités et d'ONG.
In English:
PERFORMANTES SMEs WASH is a programme developed by ForthInvestment and co-funded by Aqua for All. It aims to support ten SMEs in the WASH sector (Water, Sanitation, Integrated Water Resources Management) for a period of ten months in order to make them sustainable. It is deployed in partnership with IRC WASH, Sinergi Burkina, La Maison de la PME, Société Générale Burkina Faso and other public and private sector financing and support actors.
At the end of a selection phase which ended in May 2020, we have selected ten SMEs which will benefit from technical and financial support. ZIBDON ECO-SERVICES is one of the beneficiaries, a Limited Liability Company (SARL) under Burkinabé law created in November 2019. It specialises in Eco-construction. Its main mission is to promote a greener approach in the toilet construction sector through the introduction of innovative and revolutionary technologies such as BIOFIL and MICROFLASH.
BIOFIL technology is an odorless, non-drainable bio-digester, allowing wastewater to be cleaned by natural processes before it enters the water table and which can last up to thirty years. It is installed in place of a traditional septic tank filled with water and thus makes it possible to save money, in particular, in terms of water resources, while protecting the environment from the discharge of untreated faeces.
MICROFLASH technology consists of placing a pot called a "direct pot" on a traditional septic tank. It uses just a quarter of a liter of water to flush out fecal matter. Very economical in water and odorless. On the basis of these two technologies, the company offers products such as L'ECO-PUBLITOIL: a model of toilets reconciling several environmentally friendly technologies while offering visibility to companies, thus making them eco-friendly toilets. advertising and accessible to all.
The structure of the cabins ensures an interior well lit by daylight and they are powered by a photovoltaic energy device. The system automatically prevents organisms from spreading disease because there is no sludge build-up or odor. An ecological digester accommodating 25 users requires only about 2m² of land space for its construction and can be expandable if needed. Open defecation is thus avoided and it also helps to produce compost for agricultural purposes. Due to the low installation cost, little space used, and easy installation even in crowded environments, it can be installed in schools, commercial housing programmes, offices, camps, spaces as well. 
ZIBDON ECO SERVICES is also involved in waste management, sanitation, energy and training. It is headquartered in Ouaga and has a waste treatment and assembly center located in Koubri on the outskirts of greater Ouaga. The company is currently capitalizing twenty months of exercise with more than two hundred toilets based on bio-digesters produced in Burkina Faso on behalf of individuals, businesses, communities and NGOs.