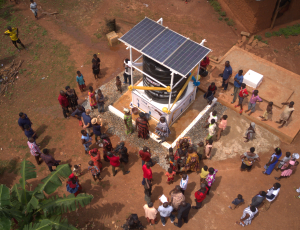 On 14 September, Aqua for All hosted the introductory session of the course 'Climate Change and the WASH sector'. The session was attended by over 100 staff members of banks and financial institutions from Kenya and Uganda.
The course will focus on the impacts of climate change on the water and sanitation sector and its implications for financial institutions. It will also offer tools to assess investments and portfolios for climate risks and to track the impact of climate on WASH (water, sanitation and hygiene) products and services.
Climate change will continue to impact the water and sanitation sector, and vice versa. Aqua for All's climate approach includes supporting water and sanitation small and medium enterprises (SMEs) in becoming more resilient and adapt to climate change.
We work with these SMEs to identify and asses the severity of the climate risks that may affect their activities, and to develop ways to mitigate and manage them. Considering climate issues in project screening and reporting on progress can reduce financial and liability risks of financial institutions. This also helps financial institutions benefit from opportunities in the transition to low carbon, climate resilient investments.
Click here to learn about our climate funding for water and sanitation.