In June 2022, Aqua for All launched a two-year partnership with Oikocredit International, a social impact investor and worldwide cooperative. The partnership is aimed at enhancing access to water and sanitation in Asia and Africa by financing, de-risking and incentivising market-based WASH initiatives. To shed some light on our joint plans and target goals, we talked to Mirjam 't Lam, Managing Director of Oikocredit International.  
Mirjam 't Lam joined Oikocredit in 2020, after having worked as Chief Financial Risk Officer in investment company Arise. There, she played a leading role in the establishment of the organisation which was founded by FMO, Norfund, Norfinance and Rabobank. 
"I have been working in impact investing and development finance for the last ten years", Mirjam 't Lam recalls. "I first got enthused by impact investment in 2009, doing an assignment for Rabobank in Rwanda. Having evaluated 63 local infrastructure projects, I saw what a difference I could make by applying my knowledge of investing in infrastructure and renewable energy to developing countries. Since then, I am always half-in half-out or fully into impact investing".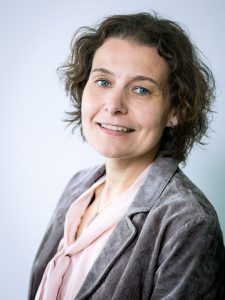 Mirjam 't Lam started her journey at Oikocredit in the middle of the COVID-19 pandemic, as the Director of Finance & Risk, and was later promoted to Managing Director. It turned out to be a watershed moment for the cooperative, which took a renewed, community-based approach to creating social and environmental impact.  
"Oikocredit strives to bring positive change into the lives of people in low-income countries by mobilising investor capital. In our new strategic trajectory, we argued that only access to finance is not enough. To bring a structural change, we need to focus on the communities and what makes them resilient. Resilient communities will be poised to combat climate change, reduce poverty and diseases, create jobs and become sustainable in the longer term. That is exactly what we observed during the pandemic: when communities collaborate, people are more advantaged to survive and thrive." 
According to 't Lam, Oikocredit was already active in the areas of renewable energy as well as sustainable agriculture chains. However, the cooperative decided to broaden its outreach and identified additional activities. 
"From our market research, we saw that resilience could be built by strengthening WASH (water, sanitation and hygiene), housing, education, community infrastructure, in addition to renewable energy, financial inclusion, and sustainable agriculture. We discussed these findings with our members and other relevant stakeholders like partners and staff , and they agreed that contribution to these sectors fitted Oikocredit's purpose".  
Promoting a sustainable water and sanitation ecosystem
Water and sanitation are especially significant for sustainable development as they can unlock the progress regarding other sustainable development goals (SDGs), Mirjam 't Lam continues.  
"Water is crucial for life, and everybody has a right to have access to clean water. Unfortunately, this right is not universal. With 2 billion people without access to clean water and more than 3 billion lacking proper toilets, there is so much to do for WASH in low-income countries. We believe constructing an ecosystem that includes local governments, microfinance institutions, enterprises and other stakeholders is a functioning approach to improving access to clean water. Starting from this critical sector, we can then build up to other impactful areas, such as sanitation, water recycling, and water conservation".  
Mirjam 't Lam reckons that Oikocredit's partnership with Aqua for All was a logical outcome of taking a community-based approach.  
"We consider Aqua for All a good partner because it has two things we do not have. First, it has an in-depth understanding of WASH and a willingness to share this knowledge with partners to develop projects. Second, it has the means to de-risk these projects. Aqua for All also has a better-entrenched network that contributes to the global ecosystem for water and sanitation. For us, as a supplier of either risk capital or credit, these assets are very valuable. By collaborating in knowledge exchange, joint financing and identifying communities in need, we could have all the ingredients to develop a successful project that contributes to SDG 6".  
"By collaborating in knowledge exchange, joint financing
and identifying communities in need, we could have all the ingredients
to develop a successful project that contributes to SDG 6"
Mirjam 't Lam expects that Aqua for All and Oikocredit will continue their partnership beyond the initial two-year period, potentially expand the successful projects to other countries and involve additional partners. 
"I see a lot of transformation going on in our sector. It is important to make sure that the progress you achieve is sustainable and that your grantees become self-sufficient and independent. To achieve a sustainable ecosystem for water an immense amount of capital is needed. Therefore, collaboration between parties that pursue a common goal, like Aqua for All and Oikocredit, can serve as a model to effectively mobilise and avail knowledge, expertise and funds to realise WASH initiatives.   
She suggests impact investors should look closer at WASH and learn to see it through the lens of long-term benefits.  
"I would say to potential investors in WASH: look at it in the long run. Investments in water and sanitation will lead to healthier populations that in turn can contribute to generating income for households and low-income communities in a resilient manner. These investments will also create jobs as infrastructure and facilities needs to be built.  
Bringing safe drinking water to the community will give access to this basic service at lower prices and from sustainable sources. It will also reduce dependency on expensive bottled water. Ensuring adequate sanitation will enhance health and resilience in communities. Nowadays, low- income people must get an expensive emergency loan to cover for healthcare and hospitalisation costs of their family members.  
If you ensure access to safe water, you will benefit as a whole – country, community, organisation. There are many long-term objectives that you would realise by investing in water and sanitation. Indeed, they differ from traditional investment areas but they are much more needed to invest in for the future of our planet".