We are looking back on an inspiring and successful World Water Week, and we would like to take this opportunity to thank our partner organisations, and all those involved in co-hosting, preparing, and attending our events during World Water Week.   
Your contributions, participation in our sessions and at our booth and work behind the scenes made them a success. We also thank   SIWI for offering a platform to the global water community to share its recent developments and practices to drive change. 
We are excited to continue collaborating and taking action to accelerate access to water and sanitation for all, and look forward to turning all this knowledge-sharing and networking into action. We would love to explore how we can work together, please don't hesitate to contact us!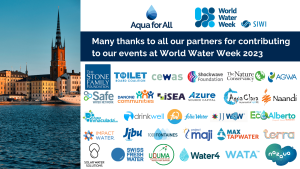 What do we take home this year?
We had five busy days discussing around the theme "Seeds of Change: Innovative Solutions for a Water-Wise World" from several perspectives. We take home the importance of interconnectivity to boost innovation. To overcome water challenges, we need to collaborate, bringing together different fields of expertise.  
Many sessions highlighted the imperative of giving a voice to those who are often overlooked. We must incorporate indigenous knowledge in decision-making and engage in intergenerational conversations to develop sustainable solutions. 
During World Water Week 2023, we were urged to rethink how we innovate. Innovation cannot only rely on new technologies. We must think of governance, mobilising private finance through blended investments and implementing climate mitigation and adaptation strategies. These aspects are indispensable on the water agenda, and must be acted upon now. 
Now the conference is over, it is time to deliver. We look forward to seeing how this knowledge and intentions turn into actions to be further discussed in the upcoming SDG Summit in September and the upcoming climate meeting COP28 in December.