The East Africa Rural Water Accelerator has been launched!
Accelerating rural water access in East Africa requires strengthening local enterprises to become profitable, scalable and investment ready. The East Africa Rural Water Accelerator will support eight to ten promising enterprises in Kenya, Uganda, Tanzania and Rwanda that offer sustainable and innovative solutions for rural water challenges. The programme will offer individual coaching, focused training, and networking and peer-learning opportunities for all participants.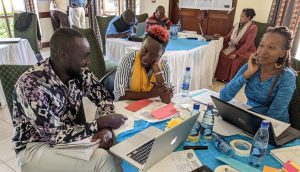 The East Africa Rural Water Accelerator is a partnership between cewas, Opero, WASEU, The Stone Family Foundation and Aqua for All. Running from April 2023 until June 2024, the programme will include face-to-face, hybrid,  and virtual sessions as well as field activities.
Interested? Please apply by 10 May 2023. For more information and submitting your application, please visit the Rural Water Accelerator's application page.