In partnership with Family Bank, Sidian Bank and private sector service providers in Kenya, Aqua for All is proud to announce the launch of the Challenge Fund, a pioneering blended finance structure to accelerate access to clean and reliable water supply in peri-urban and rural areas of Kenya. The Challenge Fund addresses the financing gap for small-scale water providers (SSWPs) in Kenya through an innovative revenue-based financing model.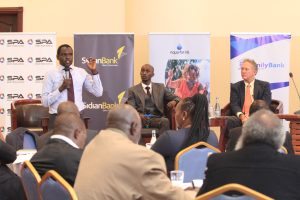 The Challenge Fund expects to support 150 SSWPs and raise KES 330 million (€2.7 million) for micro- and small water infrastructure investment projects over the next two years. As a result, 200,000 people across Kenya will gain (improved) access to water, and two commercial banks will build their capacity to develop cash-flow financing products.
Kenya has limited access to clean water supply. A significant portion of the population residing in peri-urban and rural areas do not have reliable water services. Small-scale water providers play a crucial role in these underserved areas. However, they often struggle with capital constraints that hinder their ability to expand and improve water services.
The Challenge Fund is a viable financing opportunity to bridge this gap and work towards achieving SDG6 by 2030. Through a blended finance structure and a tailor-made digital platform, 'FundMyWater', SSWPs will receive technical assistance to prepare commercial financing. In addition, Aqua for All will provide grants on demonstrated water service improvement and expansion. The revenue-based loan financing solution allows SSWPs to repay loans based on the revenue generated from their water services.
The Challenge Fund launch event took place 7 June 2023 at the Mövenpick Hotel. Distinguished guests included the managing directors of Family Bank, and Sidian Bank, representatives of Aqua for All, and various small-scale service providers and stakeholders.
The launch event showcased the FundMyWater platform, developed by technology partner Smart People Africa (SPA), which connects lenders with a pool of SSWPs and streamlines the loan application process. This platform will revolutionise water infrastructure investments, making them fast, collaborative, secure, and economically viable for all stakeholders involved.
Read more on The Challenge Fund!