In 2022, Aqua for All celebrates 20 years working towards safeguarding access to clean water and safe sanitation for all. Along this way, our organisation has been supported by  Inclusive Green Growth (IGG), a Directorate of the Netherlands Ministry of Foreign Affairs. IGG oversees the Dutch international cooperation policy in the fields of water, food security, climate, and energy. On this special occasion, we interviewed Karin Roelofs, Head of the Water Team at the department of IGG, who is a valuable advisor and partner for our organisation. She has dedicated her entire career to water and the environment.
In 2005, the Netherlands committed to providing clean water to 30 million people and sustainable sanitation services to 50 million people by 2030. IGG plays a key role to make this happen, in cooperation with organisations that it funds, like Aqua for All.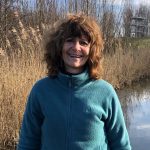 "Next to our focus on WASH we support sustainable water management and improving water productivity in agriculture, which consumes approximately 70% of the world's freshwater resources. In view of our commitment to WASH and increasing water scarcity in many parts of the world we aim to integrate improved water resource management (IWRM) and WASH as much as we can," says Karin Roelofs.
"Access to water is an enabler for the entire international agenda and a very important Sustainable Development Goal (SDG). We call water a dealmaker but it can also be a dealbreaker. If there is not enough water or if it is too dirty, it will not be possible to reach some of the other SDG objectives and targets,"  she continues.
According to Ms Roelofs, water used to be a key issue on the international agenda, but the global attention has shifted to climate change now. "This is understandable", recognises Roelofs, "but the world must not forget the importance of water".
"Whether we are talking about health, education, food production, energy, eradication of poverty or combatting climate change – water is at the heart of all these issues. I would also like to emphasise the role of WASH in the struggle against COVID-19. Handwashing and proper sanitation are crucial in countries without enough vaccines. Therefore, we must take SDG 6 very serious within the sustainable development agenda".
IGG has partnered with Aqua for All since 2002, and, according to Roelofs, for the best reasons.
"Aqua for All has one of the most innovative programmes in our portfolio. The importance of attracting private and institutional funds to bridge the financial and service gaps to achieve SDG 6 can hardly be overestimated. The world needs to invest more than $100 billion in WASH and there is only $5 million available. Historically, WASH has been financed only by the public sector, but public funds alone are not enough. Besides, we need to involve and stimulate the local private sector. Aqua for All excels in doing that by de-risking and unlocking private capital through blended finance solutions. The organisation also is very good at engaging small and medium enterprises to provide affordable WASH services. This is crucial to the goals and targets of SDG 6".
Roelofs continues: "Aqua for All has become a key player in the Dutch water sector, enabling viable service providers – those who have shown some success – to overcome their barriers to scale and become investment-ready. Aqua for All supports them to become eligible to receive private finance and be more sustainable in the long run, reducing or ending their dependency on public grants. Aqua for All also partners with microfinance institutions, commercial banks and impact investors to develop innovative and blended finance structures. The organisation does not only provide guarantees and technical assistance, which are very important, but also facilitates impact investments in the water sector. By developing benchmark indicators, Aqua for All can help debunk risk-return myths. This can convince impact investors to step in".
'Sustainability' has become a buzzword in many sectors. We asked Roelofs how she defines sustainability and what makes businesses truly sustainable:
"It is a very broad question…"  she says after taking a minute. "Sustainability requires looking at all the different aspects of the water system – from source to tap – and ensuring the protection of people and the environment. In practice, it means that the facilities that were made available will still be functioning in at least the coming 10 to 15 years."
"Water and sanitation businesses should have sustainability guidelines and report on sustainability. More sustainable business models are needed for creating inclusive economic growth".
"From past experiences, we have seen that partnerships between businesses, NGOs and governments are crucial to achieving SDG 6. Our aim is to ensure that the public funding that we made available generates significantly more private funding to support in achievement of the SDG 6 goals and targets. Then, Aqua for All takes the lead in employing catalytic grant funding to enable investments in water and sanitation by the private financiers. This kind of partnership can leverage public finance with private investments, reaching ratios as high as 1 to 8," Roelofs adds.
"The world is seriously lagging behind in reaching the water-related goals and targets under SDG6. If we do not accelerate, quadruple our efforts in WASH and bridge the service and finance gaps, we will never reach SDG6. The Netherlands, therefore, decided to co-host, together with Tajikistan, the UN Water Conference in 2023. This will be the first UN Water Conference in almost 50 years and a great opportunity to attract global attention to water. It will be a cross-sectoral conference because we urgently need to reach other sectors in order to achieve our goals. The conference will also be action-oriented and, most importantly, inclusive. We must ensure that people who never had a voice in the decision-making process will be at the negotiating table. In that way, we will make 2023 the turning point, a watershed moment for the water sector".