Rwanda Water & ICT Accelerator: winner announced
21 July 2015 13:02 UTC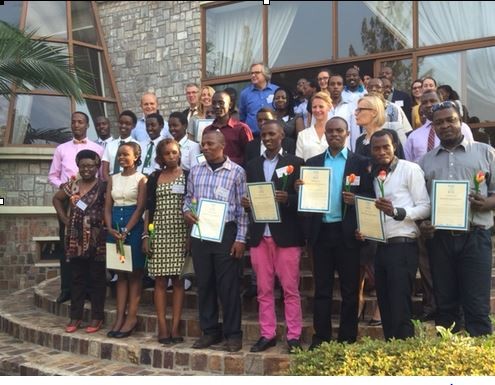 Three young Rwandan entrepeneurs have won the USD 2000 prize of the Rwanda Water and ICT Accelerator. For one week they worked alongside four competing teams on their ideas to find innovative solutions for urgent water problems in the urban environment. 
On Friday, after an exciting afternoon where each team pitched its idea to an international jury of experts, the first prize was awarded by the Dutch Ambassador Mrs. L.M. Cuelenaere to the team that want to develop a severe weather warning app in Musanze city. 
The prize is meant to develop their idea further into a full proposal that could be supported by VIA Water, the Dutch programme that supports innovative watersolutions in Africa.
The week long intensive training course they followed, was run by 
Delft University of Technology (through the 
VPdelta
 programme and 
Delft Global Initiative
) and IBM Research Africa
.The accelerator took place at the Gashora Girls Academy. During the week, the participants were introduced to all aspects of entrepeneurship: business development, networking skills, financial sustainability, proposal writing, market research and pitching skills.
A second prize is awarded to the team that worked on developing a water tank, conveyer and app to provide smart water storage and delivery services. They will receive a 1000 USD  price or individual coaching to further develop their idea and they will have the opportunity to follow a six week online training programme on business development.
The contest was organized as an element of the VIA Water initiative financed by the Netherlands. This programme aims to stimulate innovative entrepreneurship in the water sector in seven countries in Africa, among which Rwanda.