Trace Kenya makes tiles from trash
Online Challenge participant signs contract with VIA Water
11 February 2016 15:00 UTC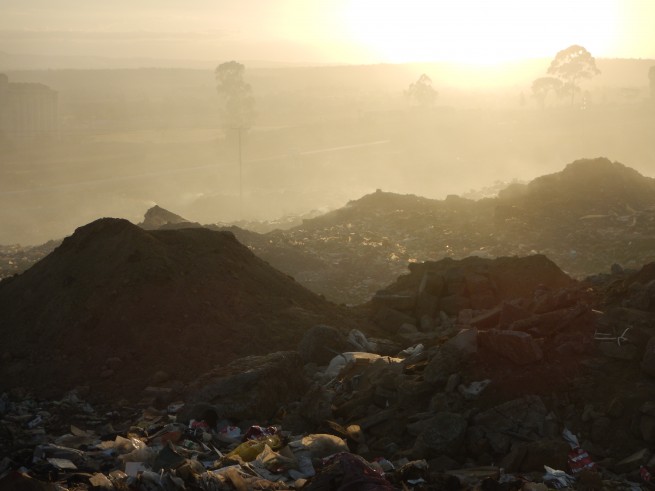 New VIA Water project: matching the solid waste problem with high demand for construction materials in Kenya
In 2014, then UNESCO-IHE Institute for Water Education student Kevin Mureithi Maina first contacted VIA Water to talk about the possibilities for his project idea. Kevin and Hope Mwanake (also an alumna of UNESCO IHE, Delft) had at that point already founded a social enterprise known as Trace to collect waste from households in Gilgil, Kenya after being frustrated by the ever increasing littering of waste in the community. However, they found that after three years of operation, there was no more space for dumping waste due to faster accumulation at the disposal site, which is attributed mainly by glass and plastics which do not rot. This has meant the disposal site is overflowing and residents have resorted to indiscriminate dumping. This leads to blockage of drainage systems resulting to localized flooding during heavy downpours which threatens public health. The situation is reflective all over Kenya, if not worse in the major urban cities.
This problem was the driving force which motivated the team at Trace to research on how these waste streams could be recycled so as to avert the situation. In 2014, Trace established a method where glass could be crushed into sand and mixed with heated plastics to form a polymer that could be moulded into various eco-friendly construction products such as roofing tiles and manhole covers. Although this means Trace will have to endeavour into a whole new line of business, they expect there will be a high demand for the products, due to the rapidly growing real estate industry in Kenya and the demand for urban drainage products that have little scrap value (such as manhole covers). In the fall of 2015, Trace participated in the VIA Water Online Innovation Challenge, in which they got the opportunity to improve their proposal with the help of several experts.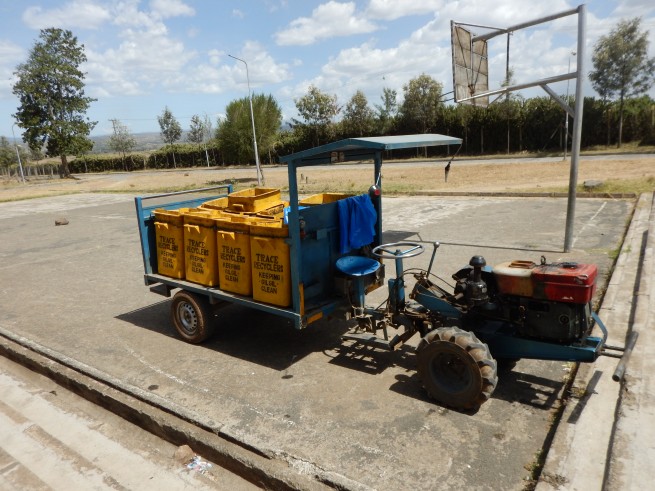 The project responds to VIA Water's pressing needs No 2. (Sustainable access to sanitation and clean cities) and also cuts across pressing need No. 11 (Improved urban planning). Water quality is at risk of deterioration in urban areas where waste is poorly managed due to contamination of surface water during heavy downpours. Local governments have been overwhelmed in addressing the issue and this has given rise to opportunities for social enterprises such Trace to offer tailor made solutions to the problem. The proposal will have a two thronged approach; recover waste plastic and glass in large scale from the environment and develop products such as roofing tiles and manhole covers that will help cover drainage systems without the risk of being vandalised because they have little scrap value.
The VIA Water support is for a real scale production line to transfer the waste into a valuable resource and to start a production line for tiles. For VIA Water this project is at the end of the chain to which we have the mandate to provide our innovation support.
Watch the video below to learn more about the project. This video was made by Mugo Ephantus, film maker and director of the Gifted Kids School in Nairobi.