The concept
Established in 2009, the FINISH Mondial programme combines raising awareness and generating demand for (improved) sanitation services, for which communities are willing to pay.
Countries:
Bangladesh, Ethiopia, India, Kenya, Tanzania, Uganda
Theme:
Sanitation economy
Duration:
2009 - 2025
Investors so far:
Aqua for All, WASTE, AMREF, Ministry of Foreign Affairs of the Netherlands, ACTIAM, Financial Institutions (MFIs, Banks, SACCOs), local Governments
Program Partners:
WASTE, AMREF Flying Doctors; Private sector, FIs and NGOs at country level
Website:
FINISH (Financial Inclusion Improves Sanitation and Health) Mondial is a programme that aims for sanitation for all through an integrated model that addresses both the demand and supply side of the sanitation challenge. Since the start in 2009 over 5,5 million people benefitted from safe sanitation, improving their health and economic empowerment. Currently, the implementation of FINISH Mondial is done by WASTE, Aqua for All and Amref Flying Doctors.
FINISH Mondial connects key stakeholders to develop local sanitation markets for low-income communities. They do this using the diamond approach of connecting communities, businesses, governments and financiers. This includes facilitating access to finance, often through MFIs, for households and sanitation entrepreneurs. FINISH Mondial works along the entire sanitation value chain, also improving faecal sludge management, preferably through circular economy solutions.  Aqua for All has joined the FINISH Mondial partnership in 2017 as financier and implementing partner.  
Even where access to toilets has improved, faecal sludge management is a large problem. Only a small portion of faecal sludge is being treated before being released in the environment. This causes major problems both for public health as well as for natural ecosystems.  
The Dutch Ministry for Foreign Trade and Development Cooperation supported the programme with a grant for a bridging phase from July 2019 until June 2020.
During the bridging phase the partners took the time to review the programme and analyse sustainability, climate risks and gender and social inclusion in order to make a long term proposal for 2020-2025.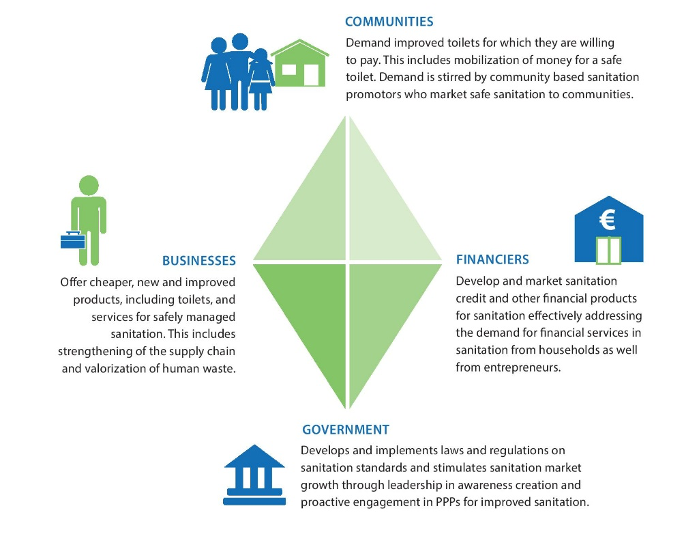 One million toilets built
Thanks to the one million toilets built in India and Kenya since 2009, five million people have gained access to safe sanitation. 
Investment in sanitation
The total investment for sanitation improvements was €150 million, from which €125 million was provided by partnering financial institutes and local governments as loans.  
10 million workdays created
More than 10 million workdays for the construction of toilets are created, which gave a significant boost to local construction businesses.